Madhya Pradesh Sikligar Programs
Helping Sikligars in the village of Pachori and Indore in Madhya Pradesh
---
Who are Sikligars?
This is a project very close to our heart, its for Sikligar Sikhs, a neglected community, located in the village of Pachori, which is located in the outskirts from the city of Burhanpur, Madhya Pradesh. Originally named Sikligar by Guru Gobind Singh Ji, they were known to be blacksmiths and had an incredible craft of weapon making, having armed the Khalsa Army in the 17th century. In the present era they are far from education, development and health facilities, and have lead a poverty-ridden life living on the edges of towns and cities of Maharashtra, Madhya Pradesh, Rajasthan, Delhi, Agra and beyond. Though historically the Sikligars made weapons for the Khalsa Panth, today many are engaged in small scale metal work; making keys, welding and tool repair. They are desperately poor, generally illiterate and lacking basic social services.
The village of Pachori is located up in the hills, with a barely visible road access, and the closest city to Pachori is 25km away. The village population is well over 900, of which about 30% are children. These families only have access to bare minimum electricity in their village, there are no phones or clean water, and toilets are a luxury that they do not have access to. Drinking water is a problem, where the majority of families have to walk to a water well every morning and fill up pots of water to use for the day.
What is SAF Doing?
SAF International, has committed to a 10 year project, which officially began in January of 2018, in which SAF International has taken on the responsibility for the education of 75 children, and the Scotland Sikh Council will be taking care of 50 children, for a total of 125 children. Under this project, SAF will be spending approximately $500,000 throughout the period of 10 years. In addition to the education of the children in an English medium school, transportation to and from school will also be provided. As a second and third phase, Gurmat seminars and camps will be held, as well as job skills training and seminars in sewing, embroidery and other such activities will be taught in order to raise the skill level of the women, according to their interests. In addition to this, surveys will be performed on their homes with a focus in providing proper water sanitation and toilet facilities. The charity will also be doing seminar especially for women focusing on ending early child marriage that is still prevalent in this village where we have seen cases of girls as young as 14 being married off. In India, 88% women do not use sanitary napkins during their menstrual period, SAF will teach women the importance of sanitary napkins and also try to provide them with sanitary napkins.
UPDATE | Pachori Community:- May 2018
SAF International, has provided the entire village with manual water filter's to purify water for their daily usage. In total 73 families have been helped thus far, and there is total over 1000 people in the village. The condition of this village and the people was devastating. They all have had to share one source of water for their own personal use whether it is for bathing, cooking or drinking. It is located in a somewhat central location of the village, and they have to leave their homes every time they need water. 73 water filters were distributed within the village, and the families were taught how to use these filters. With these water fiilters, the entire village will be able to use uncontaminated water for drinking and other useage.
We have also trained one individual to be the go-to person in charge of troubleshooting and helping them if they do not understand how to use it. Two filters were given to the school to ensure that the children are receiving uncontaminated water. Thank you again for your support and faith in SAF International. We cannot continue this work without our sponsors and donors like you. It is because of your faith in us that we are able to provide these poverty-stricken families with aid and an opportunity to thrive.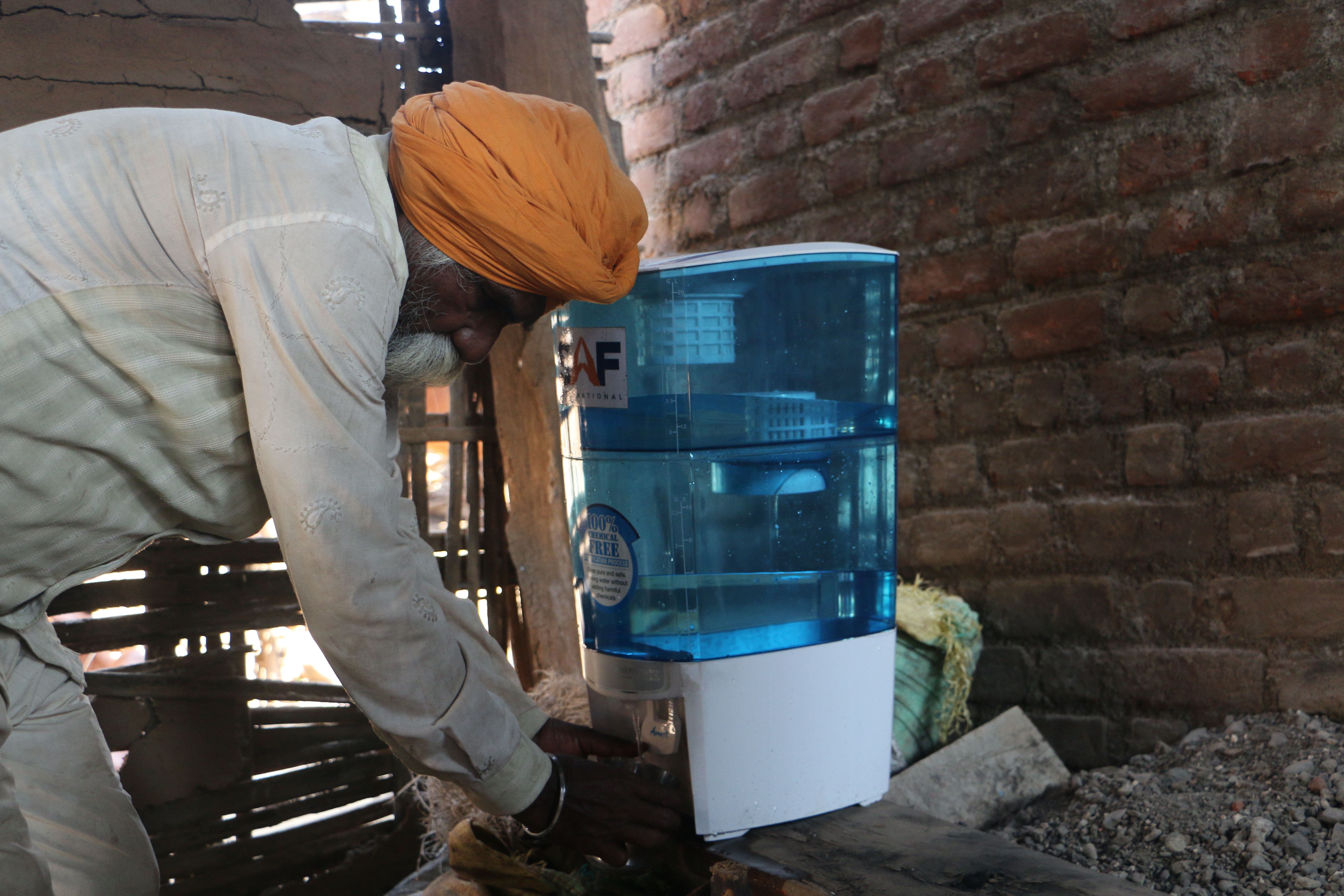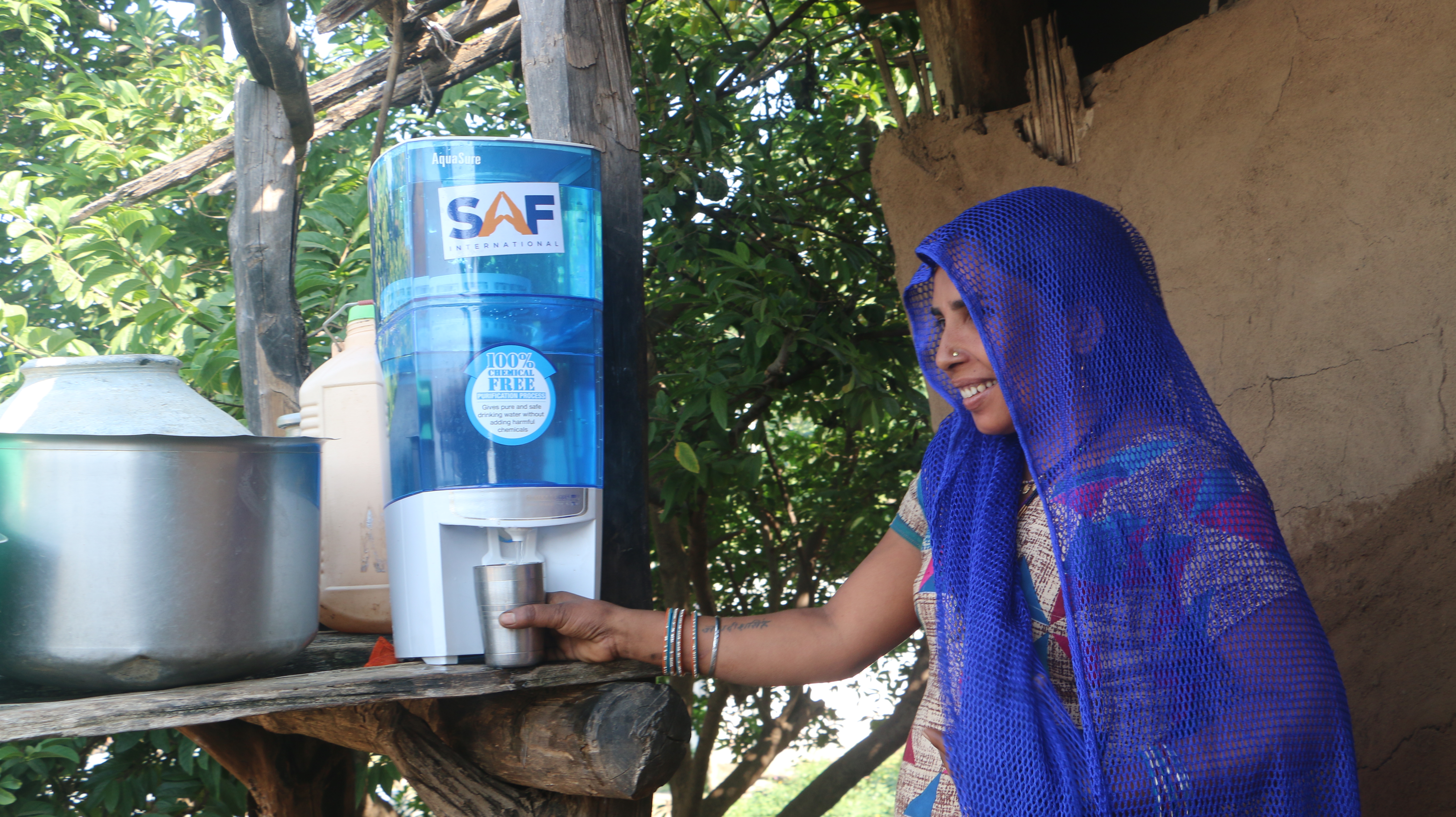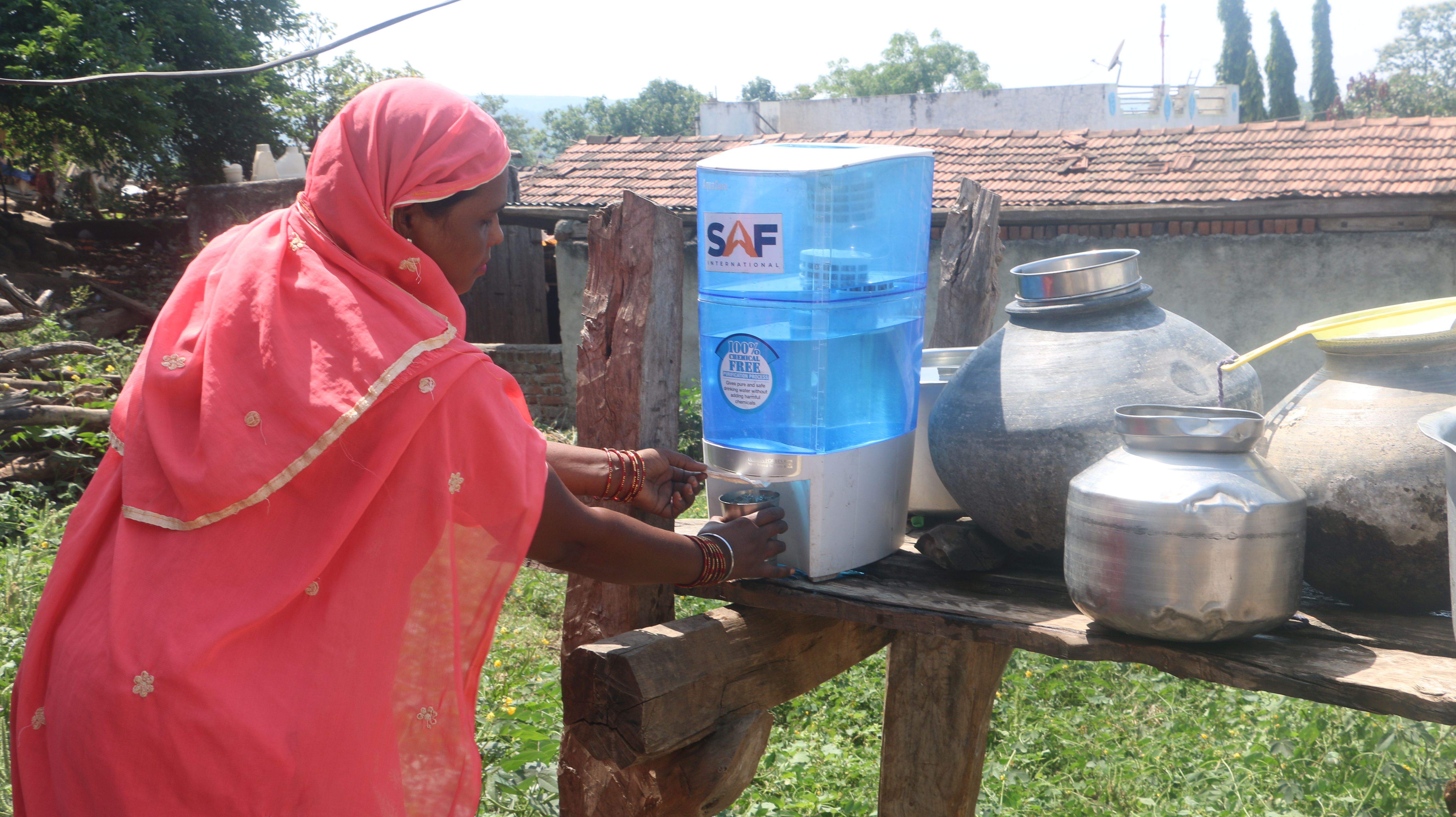 UPDATE | Akash Nagar Community:- October 2018 (NEW COMMUNITY)
In November 2018 SAF International committed to a 5 year Community Development Project to support highly marginalized Sikh community in Madhya Pradesh. Akash Nagar, Indore is the second community from Madhya Pradesh SAF International is supporting.
Challenges
The community living in Akash Nagar is comprised of under privileged children and families ridden with poverty. As a result, they face many challenges, particularly inaccessibility to clean water. Furthermore, this community is located in a rural area which is essentially isolated from the city. Certain amenities are not accessible since the road to this basti is not paved, making it difficult to transport food and household items. Additionally, majority of the children in this community did not attend school. The few which were enrolled in school, attended a government school, which does not provide a quality education. Unfortunately, teachers have no accountability to be present during school hours and often times the school remains closed altogether.
SAF's Contribution and Collaborations
SAF has taken on the responsibility of developing this community which consists of families from various backgrounds. There are both Hindu and Sikligar families residing in Akash Nagar. The general mainstream Sikhs of this area are similar in demographic to those living in Gujarat. SAF will be collaborating with other organizations to further develop this community.
SAF will be working alongside another charity which has been supporting this community. That charity established an after school tuition center in April 2018. They began with 15 students and they now have 65 students attending. SAF is planning on developing a Gurmat centre within this tuition centre.
Also, SAF will be working in partnership with MB Khalsa College, which is the school children from Akash Nagar are now attending. This school has generously agreed to waive all tuition fees for children. There are currently 55 children attending this school and SAF is hoping to enrol more children throughout the 5 year community development project. SAF is responsible for transporting children to the school. The school is approximately 10 kilometers from Akash Nagar and therefore the transportation fees are costly. Furthermore, since this basti is located in a remote area, it is expensive to hire buses.
Future Goals
Moving forward with the 5 year development project, SAF is planning on starting a pre-school for children in this community. This would allow children to begin obtaining an education at a young age and consequently they would be better prepared for elementary school. Also, SAF will begin preparing the Gurmat centre within the tuition centre.
Additionally, SAF will be providing water filters to this community since they do have adequate water supply. Currently, the municipal government regularly fills tanks for people in this community. However, these tanks have not been cleaned and they are not sanitized. As a result, the water provided is not drinkable. With the water filters SAF will be providing, this community will have access to clean drinking water.
SAF has committed to renovating 3 classrooms for nursery, grade 1 and grade 2 – where children are currently attending – renovate, furnish rooms and also make them digital.